Online Ticket Office
Terme di Caracalla
Admission ticket
The site reopens to visitors on May 1 for the DL 52 of April 22, 2021
From 9 July 2021 is possible buy the ticket at the ticket office
When purchasing a reduced or free ticket, an identity document certifying the reduction or free admission must be shown at the site entrance.
Single ticket for the Terme di Caracalla
the ticket will be only digital, reservation required;
Access is allowed only with an online ticket and with compulsory reservation; on Saturdays and Sundays, reservations be made by 11.59 pm of the previous day.
at the entrance of the Museum, a thermal camera will allow the detection of body temperature, the entrance is not allowed if the temperature is higher than 37.5 ° C;
inside the Museum, it will be essential to wear personal protective equipment;
information signage will be set up;
in some places in the rooms, you'll find dispensers with disinfectant gel.
Full
€ 8.00
Reduced
€ 2.00 cittadini della comunità europea di età compresa tra i 18 e i 25 anni
ticket on-line
reservation fee: € 2.00

Others
EU members aged between 18 and 25 years old
Free
European and non-European people under 18
Others Free Condition
our guides from the European Union practising their professional activity;
tour interpreters from the European Union practising their professional activity;
employees of the Ministry for the Cultural Heritage and Activities;
members of ICOM (International Council of Museums);
members of ICCROM (International organization for conservation of cultural heritage);
groups of students from public and private schools of the European Union, together with their teachers upon reservation and within the quota established by the head of the school;
teachers and students of faculties of Architecture, Conservation of the Cultural Heritage, Education Sciences, and degree courses in the Arts, or in literary subjects with a specialisation in archaeology or art history, in Humanities faculties of Universities from the European Union;
students enrolled in these specialisations of faculties of Architecture, Conservation of the Cultural Heritage, Education Sciences, and of degree courses in the Arts, or in literary subjects with a - specialisation in archaeology or art history, in Humanities faculties of Universities and doctorate students in the aforementioned disciplines;
Socrates and Erasmus students of the aforementioned disciplines;
teachers and students of Fine Arts Academies from the European Union;
teachers of Art History in Upper Secondary Schools;
students of the following schools: Istituto Centrale del Restauro, Opificio delle Pietre Dure, Scuola per il Restauro del Mosaico;
journalists in the italian national register or any other journalist from a foreign country, only for work porpouses and according to a valid document proving the given professionalism;
disabled persons and a companion;
members of volunteer work associations of the Cultural Heritage;
Cards:
The site is included in the Roma Pass circuit
Terme di Caracalla, Roma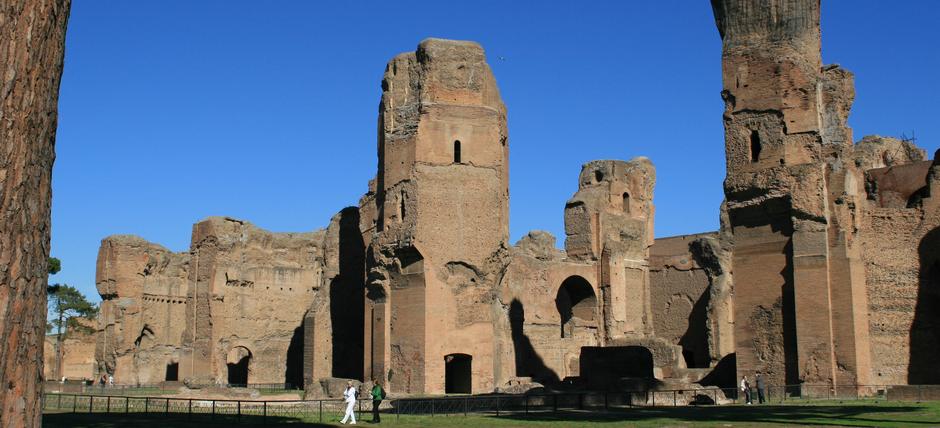 Rome, Viale delle Terme di Caracalla 52

Metro: Line B fermata Circo Massimo
Bus: n.760, n.628
hours
09.00 19.15

from Tuesday to Sunday. Last admission 6.30 pm
on going events

Caracalla Night
from Thursday
8 July

to Saturday
25 September 2021