Online Ticket Office
Palazzo delle Esposizioni
Roma
Choose your personal solution:
Ticket on-line
PDE Card
For a whole year you'll be able to visit all the exhibitions, skip the queue to get in, attend initiatives specially organised for members and get a special discount at the Antonello Colonna Open restaurant, the cafeteria and the bookshop inside the Palazzo delle Esposizioni. And if you come with a guest, they get a special discount on the price of admission too. These are only some of the many unique benefits enjoyed by our members. To discover the full range of benefits, become a member now, or share those benefits by offering a PdE membership card as a gift.
Buy Admission Ticket by phone
Reservation fees
Individuals ticket on line € 2.00
print@home € 2.00
Groups Reservation required, € 30.00 up to 25 persons
Schools Reservation required, € 20.00 up to 25 persons
Other services from Call center
didactic tours for groups
didactic tours for schools
Information, reservation, didactic tours for individuals and groups
+39 06 39967500

Information, reservation, didactic tours for schools
+39 848 082 408

from monday to friday 9.00 am - 1.00 pm and 2.00pm - 6.00 pm
on Saturday 9.00 am - 2.00 pm



Admission ticket
Full €


€ 12.50
Reduced €

€ 10.00
_giovani fino a 26 anni / young people under 26
_adulti oltre i 65 anni / senior citizens over 65
_insegnanti in attività su presentazione di dichiarazione dell'istituto di provenienza, esclusi professori universitari / teachers in activity on presentation of the institute of origin, excluding university professors
_gruppi con prenotazione obbligatoria (min 10 max 25 persone) / groups who book in advance (minimum 10 - maximum 25 people) from Tuesday to Friday
_gruppi convenzionati / groups with special concessions
€ 9.00 tariffa speciale accompagnatore abbonato / Reduced special tickets member's guest
€ 7.00 forze dell'ordine e militari con tessera di riconoscimento_stampa / Press reduced price
€ 6.00 giovani dai 7 agli 18 anni | young people aged 7 to 18 years old / Reduced price ages from 7 to 18 years
€ 4.00 scuole, studenti, ricercatori, dottorandi degli atenei romani (venerdì e sabato dalle 19.00) / students, researchers and undergraduates registered with public or private universities in rome on Fridays and Saturdays, after 7.00 pm until the box office closes

​

ticket on-line
reservation fee: € 2.00

Others
Family open ticket:
_€ 20,00 for families of two adults and a maximum of 3 children under 7; + 2 euros booking fee.
_€ 25,00 for families of 2 adults and a maximum of 2 children between 7 and 18 years + € 2 reservation fee.
Free
FREE ADMISSION FOR
_children under 6
_1 person accompanying each booked group
_1 person accompanying every 10 students
_otherwise skillfule and free admission for the person accompanying
_invalid and free admission for the person accompanying
_Regione Lazio tourist guide
_interpreters accompanying the guides- ICOM and ICROM card holders
_Free entry for under 30 the first Wednesday of the month from 2pm to 7pm
_Children under 7
Others Free Condition
Free entry for under 30 the first Wednesday of the month from 2pm to 7pm
Ticket and Admission Presale
Individuals
ticket on line € 2.00
print@home € 2.00
Groups
Reservation required, € 30.00 up to 25 persons
Schools
Reservation required, € 20.00 up to 25 persons
ticket office
It closes one hour before closing time
Palazzo delle Esposizioni, Roma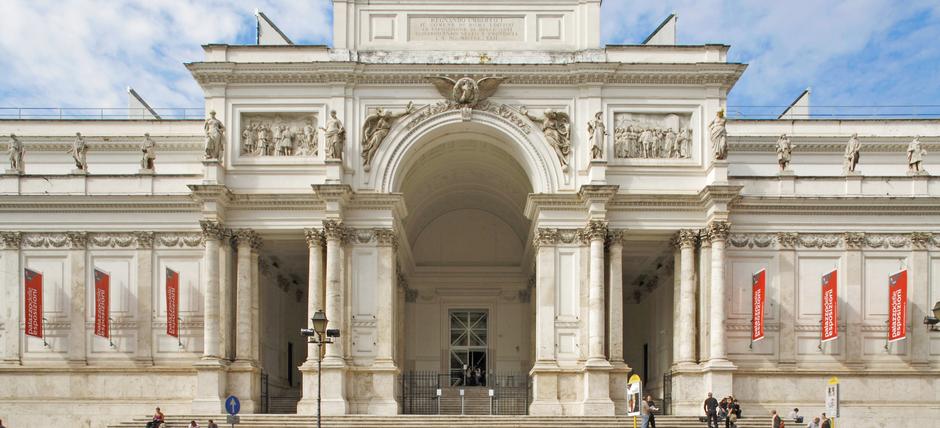 Roma,Via Nazionale 194

Metro A stop Repubblica
Metro B stop Cavour
Bus n. 64 - 70 - 71 - 117 - 170 - H stop Nazionale/Palazzo Esposizioni

hours
10.00 20.00
10.00 22.30
on going events

Pixar. 30 years of animation
from Tuesday
9 October 2018

to Sunday
20 January 2019

PIERO TOSI
from Tuesday
16 October 2018

to Sunday
20 January 2019