Online Ticket Office
Palazzo delle Esposizioni
Roma
Choose your personal solution:
Ticket WORLD PRESS PHOTO 2018
PDE Card
For a whole year you'll be able to visit all the exhibitions, skip the queue to get in, attend initiatives specially organised for members and get a special discount at the Antonello Colonna Open restaurant, the cafeteria and the bookshop inside the Palazzo delle Esposizioni. And if you come with a guest, they get a special discount on the price of admission too. These are only some of the many unique benefits enjoyed by our members. To discover the full range of benefits, become a member now, or share those benefits by offering a PdE membership card as a gift.
Buy Admission Ticket by phone
Reservation fees
Individuals ticket on line € 2.00
print@home € 2.00
Groups Reservation required, € 30.00 up to 25 persons
Schools Reservation required, € 20.00 up to 25 persons
Other services from Call center
didactic tours for groups
didactic tours for schools
Information, reservation, didactic tours for individuals and groups
+39 06 39967500

Information, reservation, didactic tours for schools
+39 848 082 408

from monday to friday 9.00 am - 1.00 pm and 2.00pm - 6.00 pm
on Saturday 9.00 am - 2.00 pm



Admission ticket
Full €

DAL 7 AL 26 FEBBRAIO 2018 | FROM 7 TO 26 FEBRUARY 2018
€ 10.00

DAL 27 FEBBRAIO INSIEME alla mostra "A HUMAN+" | FROM 27 FEBRUARY WITH THE EXHIBITION "A HUMAN+"
€ 12.50




Reduced €

DAL 7 AL 26 FEBBRAIO 2018 | FROM 7 TO 26 FEBRUARY 2018

€ 8.00 per giovani under 27, adulti over 65, insegnanti in attività, appartenenti a gruppi convenzionati, gruppi di min 10 max 25 persone con prenotazione obbligatoria | for under 27, over 65, teachers in activity on presentation of the institute of origin, excluding university professors, groups min 10 max 25 pax (reservation required)
€ 7.00 giornalisti con tessera dell'ordine in corso di validità | journalists with regular license of the National Order
€ 6.00 giovani dai 7 agli 18 anni | young people aged 7 to 18 years old
€ 4.00 a studente per le scuole con prenotazione obbligatoria | for schools (reservation required)
€ 4.00 studenti venerdì e sabato dalle 19.00 a chiusura | students on Friday and Saturday from 19.00


DAL 27 FEBBRAIO INSIEME alla mostra "A HUMAN+" | FROM 27 FEBRUARY WITH THE EXHIBITION "A HUMAN+"

€ 10.00 per giovani under 27, adulti over 65, insegnanti in attività, appartenenti a gruppi convenzionati, gruppi di min 10 max 25 persone con prenotazione obbligatoria | for under 27, over 65, teachers in activity on presentation of the institute of origin, excluding university professors, groups min 10 max 25 pax (reservation required)
€ 7.00 giornalisti con tessera dell'ordine in corso di validità | journalists with regular license of the National Order
€ 6.00 giovani dai 7 agli 18 anni | young people aged 7 to 18 years old
€ 4.00 a studente per le scuole con prenotazione obbligatoria | for schools (reservation required)
ticket on-line
reservation fee: € 2.00

Others
REDUCED PRICE FOR
young people under 26
senior citizens over 65
teachers in activity on presentation of the institute of origin, excluding university professors
groups who book in advance (minimum 10 - maximum 25 people) from Tuesday to Friday
groups with special concessions
forces of law and order and the military on producing an ID
Free
FREE ADMISSION FOR
children under 6
1 person accompanying each booked group
1 person accompanying every 10 students
otherwise skillfule and free admission for the person accompanying
invalid and free admission for the person accompanying
Regione Lazio tourist guide
interpreters accompanying the guides- ICOM and ICROM card holders​
Others Free Condition
Free entry for under 30 the first Wednesday of the month from 2pm to 7pm
Ticket and Admission Presale
Individuals
ticket on line € 2.00
print@home € 2.00
Groups
Reservation required, € 30.00 up to 25 persons
Schools
Reservation required, € 20.00 up to 25 persons
ticket office
It closes one hour before closing time
Palazzo delle Esposizioni, Roma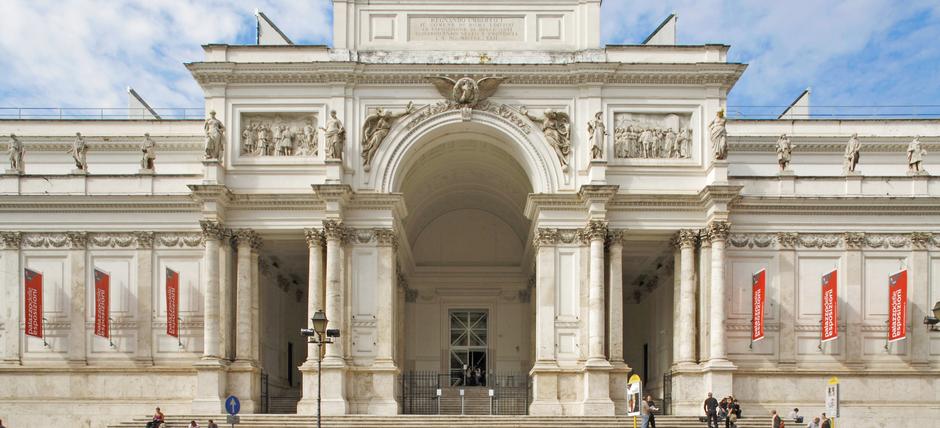 Roma,Via Nazionale 194

Metro A stop Repubblica
Metro B stop Cavour
Bus n. 64 - 70 - 71 - 117 - 170 - H stop Nazionale/Palazzo Esposizioni

hours
10.00 20.00
10.00 22.30
on going events

Cesare Tacchi. A restrospective
from Wednesday
7 February

to Sunday
6 May 2018

HUMAN+. THE FUTURE OF OUR SPECIES
from Tuesday
27 February

to Sunday
1 July 2018
HUMAN + Il futuro della nostra specie
from Tuesday
27 February

to Sunday
1 July 2018

Spot! 20 minuti un'opera
from Wednesday
18 April

to Wednesday
6 June 2018

MAGRITTE'S APPLE
from Saturday
10 February

to Sunday
10 June 2018