Online Ticket Office
Musei Reali
Admission ticket
The site will be closed in compliance with the DPCM 15th January 2021.
ACCESS AND VISIT RULES
quota access;
at the entrance to the Museum, body temperature will be detected, indicating as the limit threshold for entry at 37.5 ° C;
inside the building, it will be essential to wear personal protective equipment. There will also be templates available for purchase also at the checkout;
in the visit itinerary, information panels and indicators for spacing will be set up;
the rooms will be passable following a one-way entry and exit itinerary, indicated by the appropriate signs and also available on the MRT app;
in some places in the rooms, there are dispensers with disinfectant gel.
The admission ticket Musei Reali includes: Appartamento dinastico on the first flor of the Royal Palace, the Armory, the Chapel of the Sacred Shroud, the Sabauda Art Gallery, the Museum of Antiquities
Admission free to the Royal Gardens
Full €

Da martedì 2 febbraio a venerdì 5 febbraio: intero € 10

Da lunedì 8 febbraio: intero € 15

Per il lunedì è attiva la sola vendita online dei biglietti (non sono validi gli abbonamenti museo)
Reduced €

2,00
Others
Reduced € 13.00 for participants in guided tours
Special rate euro 10.00 Palace + Armory
Free
visitors under the age of 18
visitors with disabilities+accompanying person
teachers+school groups
tourist guides+ tourist groups s
taff of the Italian Ministry of Cultural Heritage
holders of an Abbonamento Musei/Torino+Piemonte Card or ICOM card
Ticket and Admission Presale
Groups
€ 15.00
Schools
€ 10.00
ticket office
The ticket office closes at 6 p.m.
Musei Reali, Torino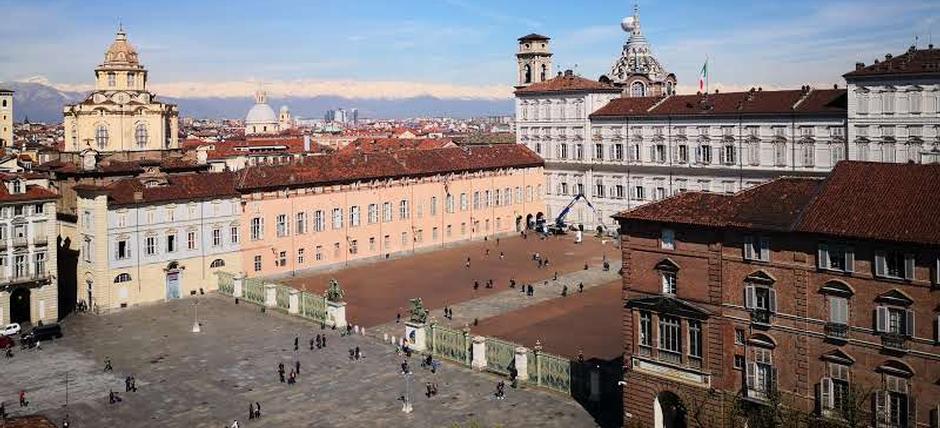 Piazzetta Reale, 1 Torino

​By trams or buses
Bus stops n. 472 Castello in Piazza Castello, n. 423 Duomo-Polo Reale in Via XX Settembre, n. 204 XI Febbraio in Corso XI Febbraio. For further information please visit the website: www.gtt.to.it

By train
Porta Nuova railway station (15 minutes walk) From the train station pass through Corso Vittorio Emanuele II and proceed on Via Roma, up to Piazza Castello.
Porta Susa railway station (20 minutes walk) From the train station take Via Cernaia and proceed on Via Pietro Micca up to Piazza Castello.

By car
From the motorway exit or from the orbital road follow the road signs to the city centre. Royal Museums are located in a central restricted traffic area, cars are not allowed to transit in Via XX Settembre and Via Pietro Micca: these areas are reserved to public transport services. Transit is prohibited in Via Po, Piazza Castello and Viale dei Partigiani from 7.30am to 10.30am, Corso Regina Margherita and Corso San Maurizio are free access areas. For further information please visit the website: www.gtt.it

hours
on going events

CAPA IN COLOR
from Saturday
26 September 2020

to Sunday
30 May 2021

Sulle tracce di Raffaello nelle collezioni sabaude
from Friday
30 October 2020

to Sunday
11 April 2021

Caravaggio ai Musei Reali Da Roma un capolavoro dalle Gallerie Nazionali di Arte Antica
from Thursday
25 February

to Sunday
30 May 2021