Online Ticket Office
The Colosseum is told - Permanent exhibition on the history of the Flavian Amphitheater
Colosseum
Admission ticket

New ticketing and four keywords: security, accessibility, hospitality, emotions
For information +39 06 399 67 700
From Monday to Saturday from 10.00 am to 6.00 pm
Full price 16 euro, valid for 24 hours for Colosseum, Roman Forum and Palatine Hill ( Colosseum Entrance Sperone Valadier)
A.R.T. (Afternoon reduced ticket) € 9,50, valid from 2 pm 14.00 until closign time (Colosseum Entrance Stern)
Full Experience € 22 (from 18th July) , valid for 2 days from the first use and including:

one entrance at Colosseo with arena from 10:30 am to 2:30 pm for groups up to 20 people (Colosseum Entrance Stern)
one entrance at Foro Romano-Palatino from 10:30 am to 6.15 pm
from 12:00 to 6 pm it is possible to visit Palatine Museum (second level ); house of Augustus ( external area can have a view on cubicolo and studiolo); Santa Maria Antiqua and Imperial Rampa (for groups up to 20 people).

Reservation tickets exclusively on line. ParcoColosseo App for maps and information for the vist here
Download ParcoColosseo App
Access and security measures
· Reservation of entrance required
· At the entrance your body temperature will be checked. If a body temperature above 37.5 ° C is registered, you will not be allowed to enter the site.
· You must wear the mask both at the entrance and during the entire visit
· Always keep the safety distance of 1.80 m
· Follow the signage positioned along the routes

From August 3, 2020 opening for the online sale of the Venere e Roma ticket office
Roman Forum and Palatine Hill entrance from Via dei Fori Imperiali, in Largo della Salara Vecchia/Largo Corrado Ricci.
Reservation not required. 4 visit routes:
1. "The square of the Roman Forum" with exit from Via del Foro Romano (estimated time 30')
2. "Walking the Via Sacra" with exit from the Arch of Titus (estimated time 1 hour 30')
3. "From the Roman Forum to the Imperial Palaces" with exit from Via di S. Gregorio (estimated time 2 hours).
4. "At the origins of Rome", route along the southern slopes of the Palatine, with exit from Via di S. Gregorio (estimated time 2 hours and 30 minutes).
For information
+39 06 399 67 700
From Monday to Saturday from 10.00 am to 6.00 pm
Full €

€ 16,00

valido 24h

Biglietto A.R.T. (Afternoon reduced ticket) € 9,50, usufruibile tutti i giorni a partire dalle ore 14.00 e fino alla chiusura del PArCo.

Full experience ( da sabato 18 luglio 2020) € 22,00 valido 2 giorni dal primo utilizzo e che include

Colosseo con visita all'arena con ingresso orario dalle ore 10:30 alle ore 14:30 per gruppi di max 20 persone
Foro Romano-Palatino con ingresso all'area archeologica ore 10:30-ore 18:15;
dalle ore 12:00 alle ore 18:00 sarà possibile visitare il Museo Palatino (limitatamente al secondo livello); casa di Augusto (limitatamente alla parte esterna con possibilità di affaccio sul cubicolo e sullo studiolo); Santa Maria Antiqua con Rampa domizianea (per gruppi di max. 20 persone).

I biglietti sono acquistabili online e collegati ad un'app gratuita che permetterà, già da casa, o al più tardi all'ingresso nell'area archeologica di scaricare le mappe dei percorsi, i contenuti storici e tutte le informazioni utili alla visita in sicurezza.

Il biglietto consente un ingresso ad orario al Colosseo e un ingresso open al Foro-Palatino inclusa la mostra temporanea.
Reduced
€ 2 euro
ticket on-line
reservation fee: € 2.00

Free
Citizens under 18 years old from European Union and no-EU countries.
​Italian permanent teachers or with fix-term contract upon presentation of the suitable certification issued by the schools.
Others Free Condition
European Union's tour guides in the exercise of their professional activity;
European Union's touristic interpreters in the exercise of their professional activity;
Employees of the Ministry for Cultural Heritage and Activities;
Members of ICOM (International Council of Museum);
Members of ICCROM (International organization for conservation of cultural heritage);
groups of students from public and private schools of the European Union, together with their teachers upon reservation and within the quota established by the head of the school;
Teachers and students of Architecture, Conservation of Cultural Assets, Learning Sciences and degree courses in Literature with Archeology or Art-History subject areas in the universities and art academies and enrolled in the respective improving schools, Specialist Studies and PHD's of the above-mentioned courses of EVERY member State of the European Union. The ticket is released to the students by showing a certificate of registration in the current academic year;
Socrates and Erasmus students of the above-mentioned degree courses;
Art-History teachers in High-schools;
Students of the following schools: Central Institute of Restoration, Opificio delle Pietre Dure, School for Mosaic Restoration;
Journalists enrolled in the national register and journalists coming from any other country, in the performance of their duties and upon presentation of a suitable document proving the professional activity carried out;
People with disabilities and one family member or a helper belonging to the health and social assistance service;
Volunteers who carry out promotion and dissemination activities of the Cultural Heritage, on the basis of the agreements concluded with the Ministry, according to art. 112, paragraph
​Project "Born with Culture" (agreement with a three-year validity: from 29/11/2018 to 29/11/2021): a cultural passport for every newborn, that allows free entrance to the Park to the child and the family (up to 2 accompanying persons) until the baby's first birthday.
Any right to a reduction or to a free admission has to be proved to the ticketing staff.
Cards:
ROMA PASS
Colosseum, Roman Forum and Palatine Hill are part of the Roma Pass network.
The reservation is mandatory. If the visitor arrives at the entrance without the Roma Pass ticket, it will not be possible to access the monument, even if the visitor has the reservation.
Ticket and Admission Presale
Individuals
TICKETS WITH ENTRANCE TIME FOR GROUPS AND INDIVIDUAL VISITORS
Access to the Colosseum, in this first phase, will be exclusively from the so-called "Sperone Valadier" and can be used by individuals or groups of up to 20 people, adequately spaced, who will enter every 15 minutes.
The number of 20 pax includes adults, children, guides, escorts, etc., therefore no one can be added over 20.
The pre-sale of the admission tickets for individual visitors and groups is bound to a precise time. The reservation is mandatory.
The guides with groups from 10 people have to use their own whispers.
For all types of tickets (full, reduced and free) only the print @ home mode will be available (no cash collection).
The congruity of reduced and free will be verified by the access control. If the NON-correspondence of the adequacy of the reduced or free admission ticket is verified, a new ticket will be issued based on availability.
Warnings
The visitor, wearing a mask, must arrive already in possession of his / her access ticket, 15 minutes before the booked access time. Simultaneously with the purchase of the ticket, and included in the price of the same, the visitor will be sent a link to download, on their mobile device, PArco Colosseo App, which is essential for visiting the PaRco.

SCHEDULED ENTRANCE TIME TICKETS FOR THE ARCHAEOLOGICAL PARK OF THE COLOSSEUM
The calendar for reservations will be gradually released. It is possible to book tickets on a bi-monthly basis (currently July and August 2020).
OPENING BI-MONTHLY AVAILABILITY JULY AND AUGUST 2020
Pre-sale of ordinary visit route ticket and visit route with Arena ticket A.R.T. for the Colosseum, on all sales channels, both online and via call center:
saturday 27th JUNE 2020 at 10:00 a.m.
OPENING DAILY AVAILABILITY
Pre-sale of ordinary visit route ticket and visit route with Arena ticket A.R.T. for the Colosseum, on all sales channels, both online and via call center.
For the use of vouchers from 1st July, please check here
If the daily availability on the sales platform runs out, in order to use vouchers, it will be possible to request your reservation to vouchercovid@coopculture.it
For information
+39 06 399 67 700
From Monday to Saturday from 10.00 am to 6.00 pm
Colosseum, Roma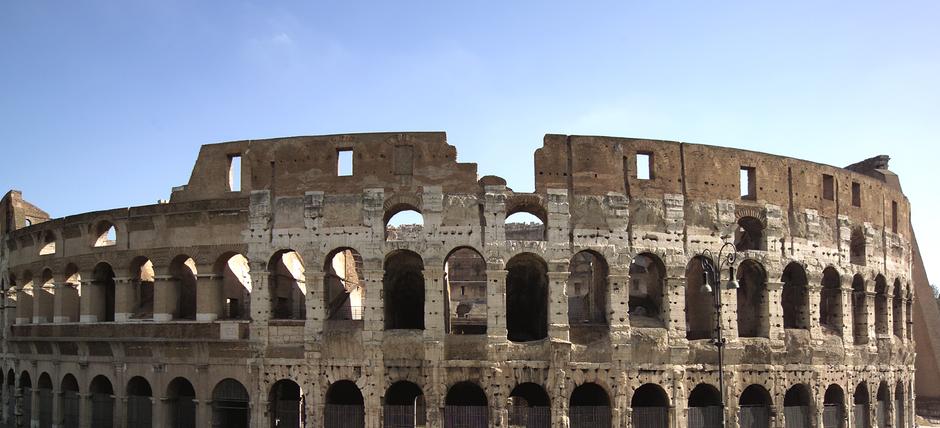 Roma, Piazza del Colosseo

Metro: Line B - "Colosseo"
Bus: Line 75 - 81 - 673 - 175 - 204
Tram: Line 3

hours
10.00 18.15 From 1st June to August 31st, Last admission at 6.15pm


The Colosseum is told
from Friday
21 December 2018

to Thursday
31 December 2020