Online Ticket Office
Parco Archeologico di Baia
Admission ticket
The Site reopens to visitors on April 28 for the DL 52 of April 22, 2021
​Reservation required on line on Saturday and on Sunday.
Please be informed that tickets will be offered for sale gradually and the purchase will be possible for the same day and the following one

ticket online
Opening from 9.00am to 7.50pm, last entry 6.50pm

ACCESS AND VISIT RULES
quota access;
Combined ticket valid for 2 days for phlegrean fields Museo Archeologico dei Campi Flegrei, Zona Archeologica di Baia, Anfiteatro Flavio e Serapeo a Pozzuoli, Scavi di Cuma.
Full € € 4,00 singolo sito / single site
€ 8,00 valido 2 giorni per i 4 siti del parco / combined ticket
Reduced € € 2.00 ridotto singolo sito / single site cittadini della comunità europea di età compresa tra i 18 e i 25 anni / EU citizens 18 - 25 years old
€ 4,00 ridotto valido 2 giorni per i 4 siti del parco / combined ticket
Others
- citizens aged between 18 and 24 years old of the European Union under the law 28.09.1999 n. 275, and subsequent amendments through ministerial letters.
Austria,Belgio, Bulgaria, Cipro, Danimarca,Estonia,Finlandia, Francia, Germania, Grecia,Irlanda,Italia, Lettonia, Lituania, Lussemburgo, Malta, Olanda, Polonia, Portogallo, Regno Unito, Repubblica Ceca, Romania, Slovacchia, Slovenia, Spagna, Ungheria, Confederazione Svizzera (Svizzera, Norvegia, Liechtenstein, Islanda).
- European Union state teachers;
Free
European and non-European people under 18
Others Free Condition
- tour guides from the European Union practising their professional activity ;
- tour interpreters from the European Union practising their professional activity ;
- employees of the Ministry for the Cultural Heritage and Activities ;
- members of ICOM (International Council of Museums);
- members of ICCROM (International organization for conservation of cultural heritage);
- reserved school groups from European Union schools, accompanied by one teacher every 10 students;
- teachers and students of faculties of Architecture, Conservation of the Cultural Heritage, Education Sciences, and degree courses in the Arts, or in literary subjects with a specialisation in archaeology or art history, in Humanities faculties of Universities from the European Union;
- students enrolled in these specialisations of faculties of Architecture, Conservation of the Cultural Heritage, Education Sciences, and of degree courses in the Arts, or in literary subjects with a - specialisation in archaeology or art history, in Humanities faculties of Universities and doctorate students in the aforementioned disciplines;
- Socrates and Erasmus students of the aforementioned disciplines;
- teachers and students of Fine Arts Academies from the European Union;
- teachers of Art History in Upper Secondary Schools;
- students of the following schools: Istituto Centrale del Restauro, Opificio delle Pietre Dure, Scuola per il Restauro del Mosaico;
- journalists in the italian national register or any other journalist from a foreign country, only for work porpouses and according to a valid document proving the given professionalism;
- disabled persons and a companion;
- members of volunteer work associations of the Cultural Heritage;
Cards:
The site is included in campania>artecard
ticket office
It closes one hour before closing time
Parco Archeologico di Baia, Bacoli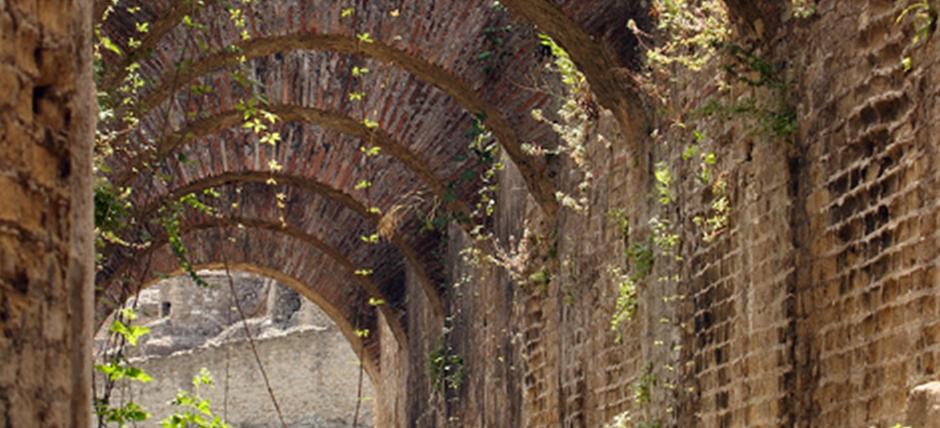 Bacoli (NA), Via sella di baia 22

EAVBUS line Piazza Garibaldi - Monte di Procida
LUCRINO - PIAZZETTA stop
hours
09.00 16.20

from January 16 to January 31
09.00 16.00

from January 2 to January 15
09.00 16.40

from February 1 to February 15
09.00 17.00

from February 16 to February 29
09.00 17.20

from March 1 to March 15
09.00 17.40

from March 16 to March 31
09.00 18.00

from May 2 to August 31
09.00 18.20

from April 16 to April 3
09.00 20.00

from May 2 to August 31
09.00 18.30

from September 1 to September 15
09.00 18.00

from September 16 to September 30
09.00 16.40

from October 1 to October 15
09.00 16.15

from October 16 to October 31
09.00 16.00

from November 1 to November 30
09.00 15.45

from December 1 to December 31