Online Ticket Office
Castello di Santa Severa
Santa Marinella
Choose your personal solution:
Ticket on-line
Buy Admission Ticket by phone
Reservation fees
Individuals
Free reservations online recommended
Groups Reservation required
€ 10.00 (min 12 - max 30 pax)

T +39 06 39967450

Schools
Reservation required
€ 5.00 (min 12 - max 30 pax)

T 848.082.408
Other services from Call center
didactic tours for singles
didactic tours for groups
Admission ticket
The Site reopens to visitors on April 27 for the DL 52 of April 22, 2021
from tuesday to friday : 9- 18 (last entrance 17).
Saturday and Sunday : 10-19 (last entrance 18).
On Saturdays, Sundays and holidays you can enter with a pre-purchased ticket AT LEAST THE PREVIOUS DAY WITHOUT PAYMENT OF PRE-SALE FEES

The combined ticket includes
Museo del Mare e della Navigazione Antica
Manica Lunga (on the occasion of events)
Rocca e Museo del Castello

Valid for one entrance during the day

Scavi di Pyrgi, Battistero and Casa della Legnaia visitable only with didactic tour, Torre Saracena (only with accompanied tour).
Full
€ 8.00
Reduced €

6.00

5.00 per i possessori Youth Card
Others
for those who buy an educational service (didactic tour, workshop, audioguide),
children aged 6- 14 years,
over 65,
groups min 12 - max 30 pax,
school groups with reservation
Free
under 6
under 18 included in the FAMILY PACKAGE
children aged 6-10 years who buy a workshop
school groups who buy a didactic service
residents of the City of Santa Marinella
disabled people
touristic guides
ICOM card holders
journalits with document

university students of archeology, art history, architecture (with document certifying it)
Ticket and Admission Presale
Individuals
Free reservations online recommended
Groups
Reservation required
€ 10.00 (min 12 - max 30 pax)
T +39 06 39967450
Schools
Reservation required
€ 5.00 (min 12 - max 30 pax)

T 848.082.408
ticket office
Last admission one hour before
Castello di Santa Severa, Santa Marinella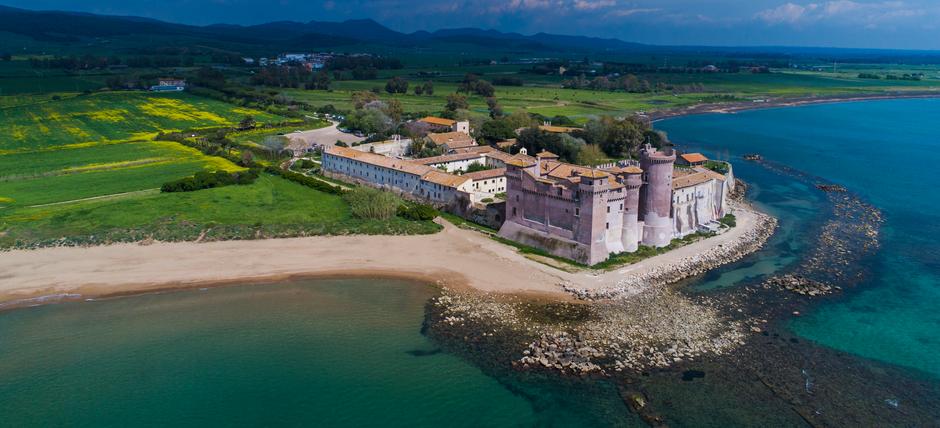 hours