Online Ticket Office
Museum and Royal Wood of Capodimonte
Napoli
Choose your personal solution:
Ticket on-line
Buy Admission Ticket by phone
Reservation fees
Individuals Suggested
Groups Museum: required, € 20.00 (from 12 up to 30 pax)

Schools
Required, € 5.00 (from 12 up to 30)
Other services from Call center
didactic tours for groups
individuals, groups, schools:
+39 06 399 67 050
Monday to Friday from 9.00 am to 1.00 pm and from 2.00 pm to 5.00 pm
Saturday from 9.00 am to 2.00 pm
Admission ticket
From April 8th to July 10th 2017 the exhibition Picasso e Napoli. Parade at Museo e Real bosco di Capodimonte.

The Museum ticket m doesn't include the access for exhibition.
Full €

8.00

Reduced €

4.00
ticket on-line
reservation fee: € 2.00

Others
MUSEO
citizens aged between 18 and 24 years old of the European Union under the law 28.09.1999 n. 275, and subsequent amendments through ministerial letters.
Austria,Belgio, Bulgaria, Cipro, Danimarca,Estonia,Finlandia, Francia, Germania, Grecia,Irlanda,Italia, Lettonia, Lituania, Lussemburgo, Malta, Olanda, Polonia, Portogallo, Regno Unito, Repubblica Ceca, Romania, Slovacchia, Slovenia, Spagna, Ungheria, Confederazione Svizzera (Svizzera, Norvegia, Liechtenstein, Islanda).
European Union state teachers
Free
European and non-European people under 18
Free admission on the first Sunday of the month
Others Free Condition
MUSEUM
tour guides from the European Union practising their professional activity;
tour interpreters from the European Union practising their professional activity;
employees of the Ministry for the Cultural Heritage and Activities;
members of ICOM (International Council of Museums);
members of ICCROM (International organization for conservation of cultural heritage);
reserved school groups from European Union schools, accompanied by one teacher every 10 students;
teachers and students of faculties of Architecture, Conservation of the Cultural Heritage, Education Sciences, and degree courses in the Arts, or in literary subjects with a specialisation in archaeology or art history, in Humanities faculties of Universities from the European Union;
students enrolled in these specialisations of faculties of Architecture, Conservation of the Cultural Heritage, Education Sciences, and of degree courses in the Arts, or in literary subjects with a specialisation in archaeology or art history, in Humanities faculties of Universities and doctorate students in the aforementioned disciplines;
Socrates and Erasmus students of the aforementioned disciplines;
teachers and students of Fine Arts Academies from the European Union;
teachers of Art History in Upper Secondary Schools;
students of the following schools: Istituto Centrale del Restauro, Opificio delle Pietre Dure, Scuola per il Restauro del Mosaico;
ournalists in the italian national register or any other journalist from a foreign country, only for work porpouses and according to a valid document proving the given professionalism;
disabled persons and a companion from the European Union;
members of volunteer work associations of the Cultural Heritage;
Cards:
The site is included in Campania Artecard circuit
Ticket and Admission Presale
Individuals
Suggested
Groups
Museum: required, € 20.00 (from 12 up to 30 pax)
Schools
Required, € 5.00 (from 12 up to 30)
ticket office
It closes one hour before closing time
Museum and Royal Wood of Capodimonte, Napoli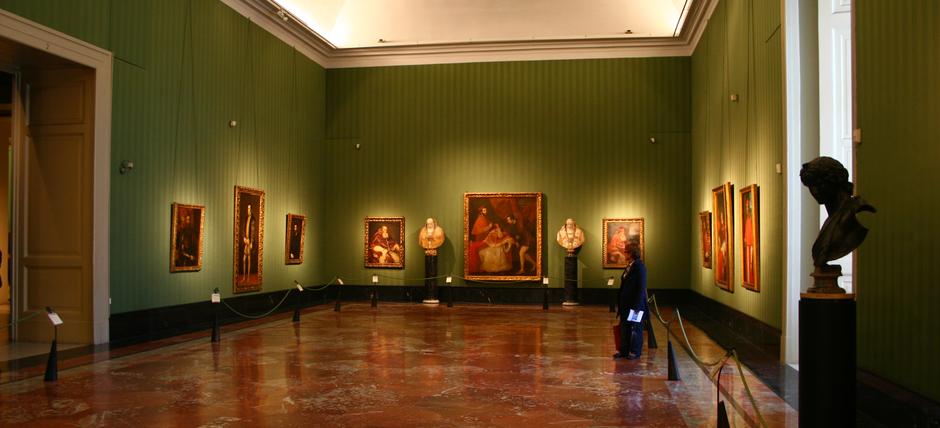 Napoli (NA), Via Miano 2

Bus: ANM 178 Via Capodimonte stop
Bus: ANM R4 Via Capodimonte stop
Bus: ANM C63 Via Capodimonte stop

Shuttle Museo di Capodimonte city sightseeing Napoli

suspended on wednesday- estimated times, bus could be delayed due to traffic conditions.
Shuttle to/from Museum + Museum Entrance
Adults € 12,00
Children up to 4 yrs free
Children (5-25 yrs) € 6,00
Only Shuttle
Shuttle to/from Museum € 8,00
Shuttle only one way € 5,00
Info: +39 335 780 3812

Timetables


hours
08.30 19.30