ticket office

Roman Forum and Palatine Hill
Choose your personal solution and skip the line at the ticket office
Safety Alert
Please note that for safety reasons the Coliseum can accommodate up to 3.000 people at once. This could lead to delays in access to the site, even for pre-booked visitors .
For security reasons all visitors and their luggage shall be screened. To facilitate the security checks please insert any object (including mobile phone) in the bag/backpack or in the tray to be included in the X-ray.
Ticket on-line
Buy Admission Ticket by phone
Reservation fees
Individuals

Ticket on line € 2.00
Ticket print@home € 2.00
Other services from Call center
didactic tours for groups
didactic tours for schools
+39 06 399 67 700
Monday to Friday from 9.00 am to 1.00 pm and from 2.00 pm to 5.00 pm
Saturday from 9.00 am to 2.00 pm
Admission ticket
Combined ticket Colosseum, Forum and Palatine, valid for one entry in the two sites for 2 days.
Full : € 12.00
Reduced : € 7.50
European Union members between 18 and 25 years old
ticket on-line:
reservation fee: € 2.00


Others:
citizens aged between 18 and 25 years old of the european union under the law 28.09.1999 n. 275, and subsequent amendments through ministerial letters.
(Austria, Belgium, Bulgaria, Cyprus, Croatia, Denmark, Estonia, Finland, France, Germany, Greece, Ireland, Italy, Latvia, Lithuania, Luxembourg, Malta, the Netherlands, Poland, Portugal, United Kingdom, Czech Republic, Romania, Slovakia, Slovenia, spain, Hungary, Switzerland, Norway, Liechtenstein, Iceland)
European Union state teachers;
Free:

european and non-european people under 18 free admission on the first sunday of the month
Free admission on the first Sunday of the month. On this occasion it is not possible to make reservation
Others Free Condition:

tour guides from the European Union practising their professional activity ;
tour interpreters from the European Union practising their professional activity ;
employees of the Ministry for the Cultural Heritage and Activities ;- members of ICOM (International Council of Museums);- members of ICCROM (International organization for conservation of cultural heritage);
reserved school groups from European Union schools, accompanied by one teacher every 10 students;
teachers and students of faculties of Architecture, Conservation of the Cultural Heritage, Education Sciences, and degree courses in the Arts, or in literary subjects with a specialisation in archaeology or art history, in Humanities faculties of Universities from the European Union;
students enrolled in these specialisations of faculties of Architecture, Conservation of the Cultural Heritage, Education Sciences, and of degree courses in the Arts, or in literary subjects with a - specialisation in archaeology or art history, in Humanities faculties of Universities and doctorate students in the aforementioned disciplines;
Socrates and Erasmus students of the aforementioned disciplines;
teachers and students of Fine Arts Academies from the European Union;
teachers of Art History in Upper Secondary Schools;
students of the following schools: Istituto Centrale del Restauro, Opificio delle Pietre Dure, Scuola per il Restauro del Mosaico;
journalists in the italian national register or any other journalist from a foreign country, only for work porpouses and according to a valid document proving the given professionalism;
disabled persons and a companion from the European Union;
members of volunteer work associations of the Cultural Heritage;
Cards:
Archeologia Card Adults € 23,00; Reduced € 13,00
Ticket and Admission Presale
Individuals
Ticket on line € 2.00
Ticket print@home € 2.00
Roman Forum and Palatine Hill, Roma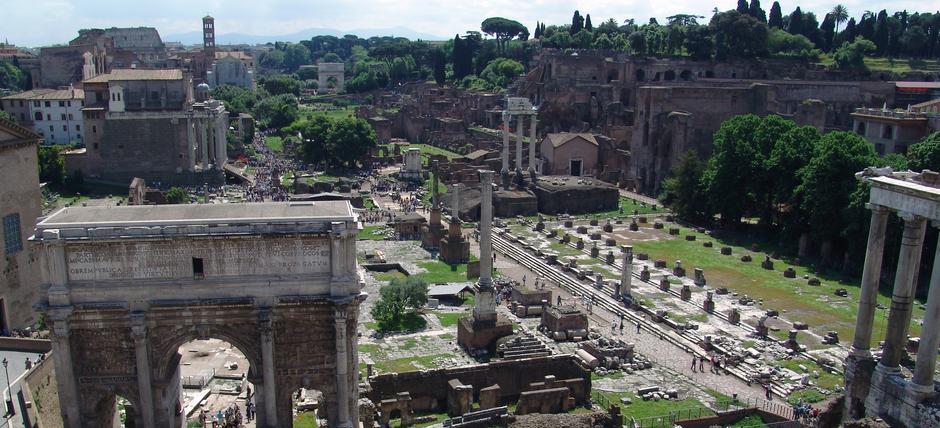 Roman Forum: Largo della Salara Vecchia 5/6
Palatine Hill: Via di San Gregorio 30


Metro: Line B stop Colosseo
Bus: n. 75, 81, 673, 175, 204; Tram 30
hours
08.30 16.30

from the last Sunday of October to 15 February: last admission at 15.30, exit at 16.30
08.30 17.00

from the 16 of February to 15 of March: last admission at 16.00, exit at 17.00
08.30 17.30

from the 16 of March to last Saturday of March: last admission at 16.30, exit at 17.30
08.30 19.15

from the last Sunday of March to 31 of August: last admission at 18.15, exit at 19.15
08.30 19.00

from 1 of September to 30 of September: last admission at 18.00, exit at 19.00
08.30 18.30

From 1 to 24 October last admission at 5.30 pm with exit at 6.30 pm
09.00 15.00